"Delahunt's warm voice, gravelly around the edges and big
and open as the prairie, manages to exude the comfort of an
Irish peat fire and the homespun qualities of mid-America"


-Sing Out! Magazine .
GIG GUIDE? go to DATES page.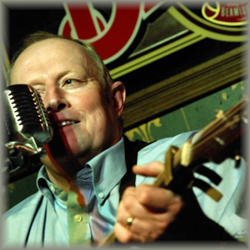 our hunt is over! You've found me - Eddie Delahunt, bon vivant, scientist, big game hunter, runway model...No, not really. But you can call me a musician, singer and songwriter. You can call me Irish. You can especially call me if you've got a gig that pays big buckaroos!
Really, thanks for checking in on my virtual telephone here.
There's all kinds of information behind this fine lookin' (and only slightly doctored) photograph.
My bio (most of it's true!)
Information about my new CD (it's quite good - trust me!)
Information about my old CDs (they're not bad, either)
Dates and places where I'll be playin' (there's generally beer there)
Go on...click away!